About Us
Dilkhush is a Indian takeaway in Birmingham. Why don't you try our Madras or Pathia?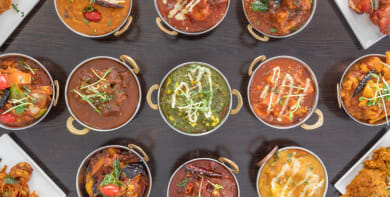 Reviews
192 reviews
N
"Been using them for years and never seem to disappoint. Highly recommend and simply the best in Stirchley ❤️"
08/01/2021
Ashley
"Beautiful food, delivered piping hot and fresh."
02/01/2021
Justine
"Our favourite Indian restaurant. We've tried many & now this is the only one we use. Chicken and mushroom madras extra hot is amazing & there chilli chicken pakora is a must try starter. 5*"
31/12/2020
Anthony
"Always order from here, great food, great prices, and on time."
12/12/2020
Menu
Curry Fresh Vegetable (V)
£4.00
Madras Fresh Vegetable (V)
£4.20
Vindaloo Fresh Vegetable (V)
£4.20
Bhuna Fresh Vegetable (V)
A thoroughly garnished dish with onion, capsicum & tomatoes with a touch of selected spice
£4.50
Bhuna Chicken
A thoroughly garnished dish with onion, capsicum & tomatoes with a touch of selected spice
£4.70
Bhuna Chicken Tikka
A thoroughly garnished dish with onion, capsicum & tomatoes with a touch of selected spice
£5.20
Bhuna Lamb Tikka
A thoroughly garnished dish with onion, capsicum & tomatoes with a touch of selected spice
£5.30
Bhuna Paneer (V)
A thoroughly garnished dish with onion, capsicum & tomatoes with a touch of selected spice
£5.00
Bhuna Lamb
A thoroughly garnished dish with onion, capsicum & tomatoes with a touch of selected spice
£5.00
Bhuna Prawn (S)
A thoroughly garnished dish with onion, capsicum & tomatoes with a touch of selected spice
£5.00
Bhuna King Prawn (S)
A thoroughly garnished dish with onion, capsicum & tomatoes with a touch of selected spice
£7.50
Bhuna Mix (S)
A thoroughly garnished dish with onion, capsicum & tomatoes with a touch of selected spice
£5.50
Sagwala Fresh Vegetable (V)
Cooked with fresh spinach touch of garlic & spices. Medium strong dish
£4.50
Sagwala Chicken
Cooked with fresh spinach touch of garlic & spices. Medium strong dish
£4.70
Sagwala Chicken Tikka
Cooked with fresh spinach touch of garlic & spices. Medium strong dish
£5.20
Sagwala Lamb Tikka
Cooked with fresh spinach touch of garlic & spices. Medium strong dish
£5.50
Sagwala Paneer (V)
Cooked with fresh spinach touch of garlic & spices. Medium strong dish
£5.20
Sagwala Lamb
Cooked with fresh spinach touch of garlic & spices. Medium strong dish
£5.20
Sagwala Prawn (S)
Cooked with fresh spinach touch of garlic & spices. Medium strong dish
£5.20
Sagwala King Prawn (S)
Cooked with fresh spinach touch of garlic & spices. Medium strong dish
£7.50
Sagwala Mix (S)
Cooked with fresh spinach touch of garlic & spices. Medium strong dish
£5.50
Rogan Josh Fresh Vegetable (V)
Robustly spiced dish with herbs, spices & tomatoes. A classic dish
£4.50
Rogan Josh Chicken
Robustly spiced dish with herbs, spices & tomatoes. A classic dish
£4.70
Rogan Josh Chicken Tikka
Robustly spiced dish with herbs, spices & tomatoes. A classic dish
£5.20
Rogan Josh Lamb Tikka
Robustly spiced dish with herbs, spices & tomatoes. A classic dish
£5.50
Rogan Josh Paneer (V)
Robustly spiced dish with herbs, spices & tomatoes. A classic dish
£5.20
Rogan Josh Lamb
Robustly spiced dish with herbs, spices & tomatoes. A classic dish
£5.20
Rogan Josh Prawn (S)
Robustly spiced dish with herbs, spices & tomatoes. A classic dish
£5.20
Rogan Josh King Prawn (S)
Robustly spiced dish with herbs, spices & tomatoes. A classic dish
£7.50
Rogan Josh Mix (S)
Robustly spiced dish with herbs, spices & tomatoes. A classic dish
£5.50
Dupiaza Fresh Vegetable (V)
Prepared with chopped green peppers with mix of fresh onions slightly hot taste
£4.50
Dupiaza Chicken
Prepared with chopped green peppers with mix of fresh onions slightly hot taste
£4.70
Dupiaza Chicken Tikka
Prepared with chopped green peppers with mix of fresh onions slightly hot taste
£5.20
Dupiaza Lamb Tikka
Prepared with chopped green peppers with mix of fresh onions slightly hot taste
£5.50
Dupiaza Paneer (V)
Prepared with chopped green peppers with mix of fresh onions slightly hot taste
£5.20
Dupiaza Lamb
Prepared with chopped green peppers with mix of fresh onions slightly hot taste
£5.20
Dupiaza Prawn (S)
Prepared with chopped green peppers with mix of fresh onions slightly hot taste
£5.20
Dupiaza King Prawn (S)
Prepared with chopped green peppers with mix of fresh onions slightly hot taste
£7.50
Dupiaza Mix (S)
Prepared with chopped green peppers with mix of fresh onions slightly hot taste
£5.50
Dansak Fresh Vegetable (V)
Cooked with lentils, spices & green herbs & a touch of red peppers
£4.50
Dansak Chicken
Cooked with lentils, spices & green herbs & a touch of red peppers
£4.70
Dansak Chicken Tikka
Cooked with lentils, spices & green herbs & a touch of red peppers
£5.20
Dansak Lamb Tikka
Cooked with lentils, spices & green herbs & a touch of red peppers
£5.50
Dansak Paneer (V)
Cooked with lentils, spices & green herbs & a touch of red peppers
£5.20
Dansak Lamb
Cooked with lentils, spices & green herbs & a touch of red peppers
£5.20
Dansak Prawn (S)
Cooked with lentils, spices & green herbs & a touch of red peppers
£5.20
Dansak King Prawn (S)
Cooked with lentils, spices & green herbs & a touch of red peppers
£7.50
Dansak Mix (S)
Cooked with lentils, spices & green herbs & a touch of red peppers
£5.50
Korma Fresh Vegetable (V)
Mildly spiced with ground almond & cream
Nuts
£4.60
Korma Chicken
Mildly spiced with ground almond & cream
Nuts
£4.80
Korma Chicken Tikka
Mildly spiced with ground almond & cream
Nuts
£5.50
Korma Lamb Tikka
Mildly spiced with ground almond & cream
Nuts
£5.60
Korma Paneer (V)
Mildly spiced with ground almond & cream
Nuts
£5.50
Korma Lamb
Mildly spiced with ground almond & cream
Nuts
£5.50
Korma Prawn (S)
Mildly spiced with ground almond & cream
Nuts
£5.50
Korma King Prawn (S)
Mildly spiced with ground almond & cream
Nuts
£7.50
Korma Mix (S)
Mildly spiced with ground almond & cream
Nuts
£5.60
Jalfrezi Fresh Vegetable (V)
Cooked with capsicum, tomatoes, onion & fresh green chilli, fairly hot
£4.50
Jalfrezi Chicken
Cooked with capsicum, tomatoes, onion & fresh green chilli, fairly hot
£4.80
Jalfrezi Chicken Tikka
Cooked with capsicum, tomatoes, onion & fresh green chilli, fairly hot
£5.50
Jalfrezi Lamb Tikka
Cooked with capsicum, tomatoes, onion & fresh green chilli, fairly hot
£5.60
Jalfrezi Paneer (V)
Cooked with capsicum, tomatoes, onion & fresh green chilli, fairly hot
£5.50
Jalfrezi Lamb
Cooked with capsicum, tomatoes, onion & fresh green chilli, fairly hot
£5.50
Jalfrezi Prawn (S)
Cooked with capsicum, tomatoes, onion & fresh green chilli, fairly hot
£5.50
Jalfrezi King Prawn (S)
Cooked with capsicum, tomatoes, onion & fresh green chilli, fairly hot
£7.50
Jalfrezi Mix (S)
Cooked with capsicum, tomatoes, onion & fresh green chilli, fairly hot
£5.50
Pathia Fresh Vegetable (V)
A popular dish cooked in slightly hot sauce producing a hot & sour taste
£4.50
Pathia Chicken
A popular dish cooked in slightly hot sauce producing a hot & sour taste
£4.70
Pathia Chicken Tikka
A popular dish cooked in slightly hot sauce producing a hot & sour taste
£5.20
Pathia Paneer (V)
A popular dish cooked in slightly hot sauce producing a hot & sour taste
£5.00
Pathia Lamb
A popular dish cooked in slightly hot sauce producing a hot & sour taste
£5.00
Pathia Prawn (S)
A popular dish cooked in slightly hot sauce producing a hot & sour taste
£5.00
Pathia King Prawn (S)
A popular dish cooked in slightly hot sauce producing a hot & sour taste
£7.50
Pathia Mix (S)
A popular dish cooked in slightly hot sauce producing a hot & sour taste
£5.50
Pathia Lamb Tikka
A popular dish cooked in slightly hot sauce producing a hot & sour taste
£5.30
Balti Mix Special
Chicken, meat & prawn (Seafood)
£5.60
Balti King Prawn Saag
Seafood
£7.80
Balti Vegetable
Vegetarian
£4.60
Balti Saag Paneer
Vegetarian
£5.40
Special Fried Rice
Peas & egg
Egg
£2.60
Mushroom Omelette
Vegetarian
Egg
£4.00
King Prawn Biryani
Seafood
£7.50
Vegetable Biryani
Vegetarian
£5.60
Mix Biryani
Chicken, lamb & prawn
Seafood
£6.00
Dilkhush Special Biryani
Chicken tikka, lamb tikka, peas & scrambled egg
Egg
£6.00
Saag Paneer Biryani
Vegetarian
£6.00
Tandoori chicken
Tandoori chicken
£6.00
Mixed Kebab
A combination of chicken tikka, lamb tikka & seekh kebab
£3.00
Chicken Pakora
Chicken pan-fried flavoured with spices
£3.00
Chicken Tikka Starter
Diced pieces of chicken spiced with garlic & herbs, cooked in the tandoori oven
£2.90
Lamb Tikka Starter
Diced pieces of lamb spiced with garlic & herbs, cooked in the tandoori oven
£2.90
Onion Bhaji
Finely chopped onions mixed with potatoes & mild spices 
Vegetarian
£2.00
Chicken Chaat
Small pieces of chicken breast cooked with chaat masala
£3.00
Aloo Chaat
Diced potatoes with chaat masala, finely chopped tomatoes, cucumber & fresh herbs
Vegetarian
£2.70
Chana Chaat
Chickpeas cooked in a spicy chaat masala
Vegetarian
£2.70
Seekh Kebab Starter
Minced lamb spiced & smoked in the tandoori oven
£2.80
Shami Kebab Starter
Tender mince lamb burger, seasoned with fresh mint, herbs & a touch of ground spice
£2.80
Stuffed Peppers Meat
Green peppers roasted in the tandoori filled with a choice of lightly spiced meat OR vegetable
£3.20
Stuffed Peppers Vegetable
Green peppers roasted in the tandoori filled with a choice of lightly spiced meat OR vegetable
£3.20
Vegetable Samosa
Triangular shaped crispy pastry filled with vegetable 
Vegetarian
£2.20
Meat Samosa
Triangular shaped crispy pastry filled with meat
£2.20
Nargis Kebab
Boiled egg covered by minced meat served with an omelette
£3.20
Tandoori Chicken Starter (Leg)
Chicken marinated & roasted in the tandoori oven
£2.20
Shashlik Chicken
Marinated chicken OR lamb cooked with onion, capsicum & tomatoes in the tandoori oven
£3.20
Shashlik Lamb
Marinated chicken OR lamb cooked with onion, capsicum & tomatoes in the tandoori oven
£3.20
Paneer Pakora
Cottage cheese deep fried in spicy butter
Vegetarian
£3.00
Naga Kebab
Minced lamb spiced & smoked in a tandoori oven
£3.20
Garlic Mushrooms
Sliced button mushroom seasoned in thick sauce strongly flavoured with garlic 
Vegetarian
£2.80
Chicken Wings
Chicken wings marinated & roasted in the tandoori oven
£2.50
Paneer Tikka Puri
Vegetarian
£3.00
Honey Kebab
Minced lamb smoked in the tandoori oven. Served with honey & puri
£3.50
Chicken Chilli Pakora
Spice lamb tikka & chicken tikka with chilli & onion
£3.20
Mix Platter
Vegetable samosa, meat samosa & onion bhaji
£3.00
Naga Chicken Tikka
Diced pieces of chicken piced with garlic & herbs, cooked in the tandori oven
£3.00
Naga lamb Tikka
Diced pieces of lamb spiced with garlic & herbs, cooked in tandoori oven
£3.20
Tandoori Special Bhuna
On the bone tandoori chicken, egg, chopped onion, pepper with special sauce
Egg
£6.00
Tandoori Tuti Fruiti
Marinated tandoori chicken cooked with mixed fruit in a mild, creamy sauce
£5.80
Chicken Tikka Masala
Diced chicken tikka in a smooth masala sauce. A very popular dish
Nuts
£5.80
Lamb Tikka Masala
Diced lamb tikka in a smooth masala sauce. A very popular dish
Nuts
£6.00
Murgh Masala
Diced chicken breast marinated in herbs & spices with a touch of herbs with minced lamb
£6.00
Paneer Tikka Masala
Paneer tikka in a smooth masala sauce. A very popular dish
Nuts
£6.00
Chicken Chilli Masala
Chicken dish of rich, hot & extensively prepared with fresh green chillies
£5.80
Pasanda Chicken
Mildly cooked marinated chicken OR lamb in a creamy yoghurt sauce 
Nuts
£6.00
Pasanda Lamb
Mildly cooked marinated chicken OR lamb in a creamy yoghurt sauce 
Nuts
£6.00
Rezala Chicken Tikka
Chicken tikka OR lamb tikka spiced with fenugreek, onion, tomatoes & capsicum
£5.90
Rezala Lamb Tikka
Chicken tikka OR lamb tikka spiced with fenugreek, onion, tomatoes & capsicum
£5.90
Shahi Spice
Cubes of succulent chicken & lamb marinated in mildly spiced sweet & sour butter sauce & a touch of mint
Nuts
£6.00
Korai Chicken
Cooked with diced onion, green & red pepper, garlic & chilli. Slightly hot dish
£6.00
Korai Lamb
Cooked with diced onion, green & red pepper, garlic & chilli. Slightly hot dish
£6.00
North Bengal Garlic Chicken
Chicken cooked with fresh garlic, tomatoes & onion
£5.80
Makhani Chicken
Pieces of sliced chicken OR lamb marinated in mild herbs & spices, flavoured in butter sauce topped with cheese, nuts & cream
£5.90
Makhani Lamb
Pieces of sliced chicken OR lamb marinated in mild herbs & spices, flavoured in butter sauce topped with cheese, nuts & cream
£5.90
Hot Naga Chicken
Tender pieces of chicken cooked in hot naga chilli
£5.90
Pathakuri Khana
Widely flavoured Goan dish of chicken & lamb with fresh spinach in a medium sauce with fresh ginger & fenugreek to add an aromatic taste
£6.00
Mughlai Chicken
Mildly spiced, creamy cooked with almond & scrambled egg to create a delicious balanced flavour 
Egg
£5.50
Mughlai Lamb
Mildly spiced, creamy cooked with almond & scrambled egg to create a delicious balanced flavour 
Egg
£5.50
Mochammon Chicken
Cooked with green beans & tomato, medium hot
£5.50
Mochammon Lamb
Cooked with green beans & tomato, medium hot
£5.50
Shashlik Bhuna Chicken
A thoroughly garnished dish with tandoori onion, capsicum & tomatoes with a touch of selected spice
£6.20
Shashlik Bhuna Lamb
A thoroughly garnished dish with tandoori onion, capsicum & tomatoes with a touch of selected spice
£6.20
Chicken Ceylon
Fairly hot cooked with coconut powder in thick sauce
Nuts
£5.50
Dilkhush Special Tawa Chicken
Chicken OR lamb cooked in chef's special sauce, slightly hot
£6.00
Dilkhush Special Tawa Lamb
Chicken OR lamb cooked in chef's special sauce, slightly hot
£6.00
Methi Gosht Bhuna
A method of preparation similar to bhuna, when fenugreek leaves are mixed with spices & fried briskly
£5.90
Daal Dupiaza
Daal with peppers, onion & fresh garlic
Vegetarian
£5.20
Chicken Tikka Mango
Sweet & sour dry dishes
£5.50
Honey Tikka Masala
Diced chicken tikka in a smooth masala sauce. A very popular dish
Nuts
£6.20
Butter Chicken
Sliced chicken tikka with smooth & creamy sauce
Nuts
£5.80
Cauliflower Bhaji
Vegetarian
£2.60
Kabuli Chana
Chickpeas
Vegetarian
£2.60
Mushroom Bhaji
Vegetarian
£2.60
Garlic & Mushroom Bhaji
Vegetarian
£2.60
Korma Sauce
Vegetarian
Nuts
£2.70
Mixed Vegetable Bhaji
Vegetarian
£2.60
Bhindi Bhaji
Okra 
Vegetarian
£2.60
Chana & Mushroom Bhaji
Vegetarian
£2.80
Tandoori Deluxe
Marinated mixture of chicken tikka, lamb tikka, seekh kebab, tandoori chicken & naan
£7.20
Shashlik Tandoori Chicken
Tender diced chicken OR lamb marinated with mild spice over charcoal served with grilled tomatoes, onions, green peppers & naan
£7.20
Shashlik Tandoori Lamb
Tender diced chicken OR lamb marinated with mild spice over charcoal served with grilled tomatoes, onions, green peppers & naan
£7.20
Tandoori Chicken (Half)
Piece of chicken breast & leg on the bone, marinated & dry roasted in the clay oven
£4.90
Tandoori Chicken (Full)
Two pieces of chicken breast & leg on the bone, marinated & dry roasted in the clay oven
£8.90
Chicken Tikka Main
Cubes of chicken tikka marinated & dry roasted in the clay oven
£4.90
Lamb Tikka Main
Cubes of lamb tikka marinated & dry roasted in the clay oven
£5.00
Paneer Tikka Main
Vegetarian
£5.20
Chicken Tikka with Naan
Served with fresh salad & mayonnaise
£3.50
Dilkhush Tandoori Special
Marinated mixture of chicken tikka, lamb tikka, tandoori chicken, chop onion & pepper. Served with fresh  salad & pilau rice
£7.20
Special Offer Regular
Any starter
Any curry
Rice, naan OR chips
Poppadom, onion salad & mint sauce
£10.00
Special Offer King Prawn
Any starter
Any curry
Rice, naan OR chips
Poppadom, onion salad & mint sauce
£12.00
Contact Us
Find Us
1462 Pershore Road, Birmingham, B302NT
We deliver to
B14, B29, B30, B31, B38