About Us
Dilkhush is a Indian takeaway in Birmingham. Why don't you try our Madras or Pathia?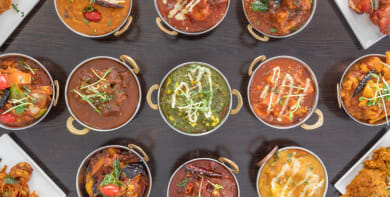 Reviews
182 reviews
Sarah
"The naga chicken was delicious as always it arrived piping hot with fresh naan and rice thank you dilkush il be back 👍👍"
22/02/2021
Martin
"Absolutely brilliant taste.... can't go any where else"
13/02/2021
jamie
"Absouley briiliant...Perfect order...Delicicious."
11/02/2021
Eliza
"Great food and service."
02/02/2021
Menu
Curry Fresh Vegetable (V)
£4.20
Madras Fresh Vegetable (V)
£4.40
Vindaloo Fresh Vegetable (V)
£4.40
Bhuna Fresh Vegetable (V)
A thoroughly garnished dish with onion, capsicum & tomatoes with a touch of selected spice
£4.70
Bhuna Chicken
A thoroughly garnished dish with onion, capsicum & tomatoes with a touch of selected spice
£4.90
Bhuna Chicken Tikka
A thoroughly garnished dish with onion, capsicum & tomatoes with a touch of selected spice
£5.40
Bhuna Lamb Tikka
A thoroughly garnished dish with onion, capsicum & tomatoes with a touch of selected spice
£5.50
Bhuna Paneer (V)
A thoroughly garnished dish with onion, capsicum & tomatoes with a touch of selected spice
£5.20
Bhuna Lamb
A thoroughly garnished dish with onion, capsicum & tomatoes with a touch of selected spice
£5.20
Bhuna Prawn (S)
A thoroughly garnished dish with onion, capsicum & tomatoes with a touch of selected spice
£5.20
Bhuna King Prawn (S)
A thoroughly garnished dish with onion, capsicum & tomatoes with a touch of selected spice
£7.70
Bhuna Mix (S)
A thoroughly garnished dish with onion, capsicum & tomatoes with a touch of selected spice
£5.70
Sagwala Fresh Vegetable (V)
Cooked with fresh spinach touch of garlic & spices. Medium strong dish
£4.70
Sagwala Chicken
Cooked with fresh spinach touch of garlic & spices. Medium strong dish
£4.90
Sagwala Chicken Tikka
Cooked with fresh spinach touch of garlic & spices. Medium strong dish
£5.40
Sagwala Lamb Tikka
Cooked with fresh spinach touch of garlic & spices. Medium strong dish
£5.70
Sagwala Paneer (V)
Cooked with fresh spinach touch of garlic & spices. Medium strong dish
£5.40
Sagwala Lamb
Cooked with fresh spinach touch of garlic & spices. Medium strong dish
£5.40
Sagwala Prawn (S)
Cooked with fresh spinach touch of garlic & spices. Medium strong dish
£5.40
Sagwala King Prawn (S)
Cooked with fresh spinach touch of garlic & spices. Medium strong dish
£7.70
Sagwala Mix (S)
Cooked with fresh spinach touch of garlic & spices. Medium strong dish
£5.70
Rogan Josh Fresh Vegetable (V)
Robustly spiced dish with herbs, spices & tomatoes. A classic dish
£4.70
Rogan Josh Chicken
Robustly spiced dish with herbs, spices & tomatoes. A classic dish
£4.90
Rogan Josh Chicken Tikka
Robustly spiced dish with herbs, spices & tomatoes. A classic dish
£5.40
Rogan Josh Lamb Tikka
Robustly spiced dish with herbs, spices & tomatoes. A classic dish
£5.70
Rogan Josh Paneer (V)
Robustly spiced dish with herbs, spices & tomatoes. A classic dish
£5.40
Rogan Josh Lamb
Robustly spiced dish with herbs, spices & tomatoes. A classic dish
£5.40
Rogan Josh Prawn (S)
Robustly spiced dish with herbs, spices & tomatoes. A classic dish
£5.40
Rogan Josh King Prawn (S)
Robustly spiced dish with herbs, spices & tomatoes. A classic dish
£7.70
Rogan Josh Mix (S)
Robustly spiced dish with herbs, spices & tomatoes. A classic dish
£5.70
Dupiaza Fresh Vegetable (V)
Prepared with chopped green peppers with mix of fresh onions slightly hot taste
£4.70
Dupiaza Chicken
Prepared with chopped green peppers with mix of fresh onions slightly hot taste
£4.90
Dupiaza Chicken Tikka
Prepared with chopped green peppers with mix of fresh onions slightly hot taste
£5.40
Dupiaza Lamb Tikka
Prepared with chopped green peppers with mix of fresh onions slightly hot taste
£5.70
Dupiaza Paneer (V)
Prepared with chopped green peppers with mix of fresh onions slightly hot taste
£5.40
Dupiaza Lamb
Prepared with chopped green peppers with mix of fresh onions slightly hot taste
£5.40
Dupiaza Prawn (S)
Prepared with chopped green peppers with mix of fresh onions slightly hot taste
£5.40
Dupiaza King Prawn (S)
Prepared with chopped green peppers with mix of fresh onions slightly hot taste
£7.70
Dupiaza Mix (S)
Prepared with chopped green peppers with mix of fresh onions slightly hot taste
£5.70
Dansak Fresh Vegetable (V)
Cooked with lentils, spices & green herbs & a touch of red peppers
£4.70
Dansak Chicken
Cooked with lentils, spices & green herbs & a touch of red peppers
£4.90
Dansak Chicken Tikka
Cooked with lentils, spices & green herbs & a touch of red peppers
£5.40
Dansak Lamb Tikka
Cooked with lentils, spices & green herbs & a touch of red peppers
£5.70
Dansak Paneer (V)
Cooked with lentils, spices & green herbs & a touch of red peppers
£5.40
Dansak Lamb
Cooked with lentils, spices & green herbs & a touch of red peppers
£5.40
Dansak Prawn (S)
Cooked with lentils, spices & green herbs & a touch of red peppers
£5.40
Dansak King Prawn (S)
Cooked with lentils, spices & green herbs & a touch of red peppers
£7.70
Dansak Mix (S)
Cooked with lentils, spices & green herbs & a touch of red peppers
£5.70
Korma Fresh Vegetable (V)
Mildly spiced with ground almond & cream
Nuts
£4.80
Korma Chicken
Mildly spiced with ground almond & cream
Nuts
£5.00
Korma Chicken Tikka
Mildly spiced with ground almond & cream
Nuts
£5.70
Korma Lamb Tikka
Mildly spiced with ground almond & cream
Nuts
£5.80
Korma Paneer (V)
Mildly spiced with ground almond & cream
Nuts
£5.70
Korma Lamb
Mildly spiced with ground almond & cream
Nuts
£5.70
Korma Prawn (S)
Mildly spiced with ground almond & cream
Nuts
£5.70
Korma King Prawn (S)
Mildly spiced with ground almond & cream
Nuts
£7.70
Korma Mix (S)
Mildly spiced with ground almond & cream
Nuts
£5.80
Jalfrezi Fresh Vegetable (V)
Cooked with capsicum, tomatoes, onion & fresh green chilli, fairly hot
£4.70
Jalfrezi Chicken
Cooked with capsicum, tomatoes, onion & fresh green chilli, fairly hot
£5.00
Jalfrezi Chicken Tikka
Cooked with capsicum, tomatoes, onion & fresh green chilli, fairly hot
£5.70
Jalfrezi Lamb Tikka
Cooked with capsicum, tomatoes, onion & fresh green chilli, fairly hot
£5.80
Jalfrezi Paneer (V)
Cooked with capsicum, tomatoes, onion & fresh green chilli, fairly hot
£5.70
Jalfrezi Lamb
Cooked with capsicum, tomatoes, onion & fresh green chilli, fairly hot
£5.70
Jalfrezi Prawn (S)
Cooked with capsicum, tomatoes, onion & fresh green chilli, fairly hot
£5.70
Jalfrezi King Prawn (S)
Cooked with capsicum, tomatoes, onion & fresh green chilli, fairly hot
£7.70
Jalfrezi Mix (S)
Cooked with capsicum, tomatoes, onion & fresh green chilli, fairly hot
£5.70
Pathia Fresh Vegetable (V)
A popular dish cooked in slightly hot sauce producing a hot & sour taste
£4.70
Pathia Chicken
A popular dish cooked in slightly hot sauce producing a hot & sour taste
£4.90
Pathia Chicken Tikka
A popular dish cooked in slightly hot sauce producing a hot & sour taste
£5.40
Pathia Paneer (V)
A popular dish cooked in slightly hot sauce producing a hot & sour taste
£5.20
Pathia Lamb
A popular dish cooked in slightly hot sauce producing a hot & sour taste
£5.20
Pathia Prawn (S)
A popular dish cooked in slightly hot sauce producing a hot & sour taste
£5.20
Pathia King Prawn (S)
A popular dish cooked in slightly hot sauce producing a hot & sour taste
£7.70
Pathia Mix (S)
A popular dish cooked in slightly hot sauce producing a hot & sour taste
£5.70
Pathia Lamb Tikka
A popular dish cooked in slightly hot sauce producing a hot & sour taste
£5.50
Balti Mix Special
Chicken, meat & prawn (Seafood)
£5.80
Balti King Prawn Saag
Seafood
£8.00
Balti Vegetable
Vegetarian
£4.80
Balti Saag Paneer
Vegetarian
£5.60
Special Fried Rice
Peas & egg
Egg
£2.60
Mushroom Omelette
Vegetarian
Egg
£4.20
King Prawn Biryani
Seafood
£7.70
Vegetable Biryani
Vegetarian
£5.80
Mix Biryani
Chicken, lamb & prawn
Seafood
£6.20
Dilkhush Special Biryani
Chicken tikka, lamb tikka, peas & scrambled egg
Egg
£6.20
Saag Paneer Biryani
Vegetarian
£6.20
Tandoori chicken
Tandoori chicken
£6.20
Mixed Kebab
A combination of chicken tikka, lamb tikka & seekh kebab
£3.00
Chicken Pakora
Chicken pan-fried flavoured with spices
£3.00
Chicken Tikka Starter
Diced pieces of chicken spiced with garlic & herbs, cooked in the tandoori oven
£2.90
Lamb Tikka Starter
Diced pieces of lamb spiced with garlic & herbs, cooked in the tandoori oven
£2.90
Onion Bhaji
Finely chopped onions mixed with potatoes & mild spices 
Vegetarian
£2.00
Chicken Chaat
Small pieces of chicken breast cooked with chaat masala
£3.00
Aloo Chaat
Diced potatoes with chaat masala, finely chopped tomatoes, cucumber & fresh herbs
Vegetarian
£2.70
Chana Chaat
Chickpeas cooked in a spicy chaat masala
Vegetarian
£2.70
Seekh Kebab Starter
Minced lamb spiced & smoked in the tandoori oven
£2.80
Shami Kebab Starter
Tender mince lamb burger, seasoned with fresh mint, herbs & a touch of ground spice
£2.80
Stuffed Peppers Meat
Green peppers roasted in the tandoori filled with a choice of lightly spiced meat OR vegetable
£3.20
Stuffed Peppers Vegetable
Green peppers roasted in the tandoori filled with a choice of lightly spiced meat OR vegetable
£3.20
Vegetable Samosa
Triangular shaped crispy pastry filled with vegetable 
Vegetarian
£2.20
Meat Samosa
Triangular shaped crispy pastry filled with meat
£2.20
Nargis Kebab
Boiled egg covered by minced meat served with an omelette
£3.20
Tandoori Chicken Starter (Leg)
Chicken marinated & roasted in the tandoori oven
£2.20
Shashlik Chicken
Marinated chicken OR lamb cooked with onion, capsicum & tomatoes in the tandoori oven
£3.20
Shashlik Lamb
Marinated chicken OR lamb cooked with onion, capsicum & tomatoes in the tandoori oven
£3.20
Paneer Pakora
Cottage cheese deep fried in spicy butter
Vegetarian
£3.00
Naga Kebab
Minced lamb spiced & smoked in a tandoori oven
£3.20
Garlic Mushrooms
Sliced button mushroom seasoned in thick sauce strongly flavoured with garlic 
Vegetarian
£2.80
Chicken Wings
Chicken wings marinated & roasted in the tandoori oven
£2.50
Paneer Tikka Puri
Vegetarian
£3.00
Honey Kebab
Minced lamb smoked in the tandoori oven. Served with honey & puri
£3.50
Chicken Chilli Pakora
Spice lamb tikka & chicken tikka with chilli & onion
£3.20
Mix Platter
Vegetable samosa, meat samosa & onion bhaji
£3.00
Naga Chicken Tikka
Diced pieces of chicken piced with garlic & herbs, cooked in the tandori oven
£3.00
Naga lamb Tikka
Diced pieces of lamb spiced with garlic & herbs, cooked in tandoori oven
£3.20
Tandoori Special Bhuna
On the bone tandoori chicken, egg, chopped onion, pepper with special sauce
Egg
£6.20
Tandoori Tuti Fruiti
Marinated tandoori chicken cooked with mixed fruit in a mild, creamy sauce
£6.00
Chicken Tikka Masala
Diced chicken tikka in a smooth masala sauce. A very popular dish
Nuts
£6.00
Lamb Tikka Masala
Diced lamb tikka in a smooth masala sauce. A very popular dish
Nuts
£6.20
Murgh Masala
Diced chicken breast marinated in herbs & spices with a touch of herbs with minced lamb
£6.20
Paneer Tikka Masala
Paneer tikka in a smooth masala sauce. A very popular dish
Nuts
£6.20
Chicken Chilli Masala
Chicken dish of rich, hot & extensively prepared with fresh green chillies
£6.00
Pasanda Chicken
Mildly cooked marinated chicken OR lamb in a creamy yoghurt sauce 
Nuts
£6.20
Pasanda Lamb
Mildly cooked marinated chicken OR lamb in a creamy yoghurt sauce 
Nuts
£6.20
Rezala Chicken Tikka
Chicken tikka OR lamb tikka spiced with fenugreek, onion, tomatoes & capsicum
£6.10
Rezala Lamb Tikka
Chicken tikka OR lamb tikka spiced with fenugreek, onion, tomatoes & capsicum
£6.10
Shahi Spice
Cubes of succulent chicken & lamb marinated in mildly spiced sweet & sour butter sauce & a touch of mint
Nuts
£6.20
Korai Chicken
Cooked with diced onion, green & red pepper, garlic & chilli. Slightly hot dish
£6.20
Korai Lamb
Cooked with diced onion, green & red pepper, garlic & chilli. Slightly hot dish
£6.20
North Bengal Garlic Chicken
Chicken cooked with fresh garlic, tomatoes & onion
£6.00
Makhani Chicken
Pieces of sliced chicken OR lamb marinated in mild herbs & spices, flavoured in butter sauce topped with cheese, nuts & cream
£6.10
Makhani Lamb
Pieces of sliced chicken OR lamb marinated in mild herbs & spices, flavoured in butter sauce topped with cheese, nuts & cream
£6.10
Hot Naga Chicken
Tender pieces of chicken cooked in hot naga chilli
£6.10
Pathakuri Khana
Widely flavoured Goan dish of chicken & lamb with fresh spinach in a medium sauce with fresh ginger & fenugreek to add an aromatic taste
£6.20
Mughlai Chicken
Mildly spiced, creamy cooked with almond & scrambled egg to create a delicious balanced flavour 
Egg
£5.70
Mughlai Lamb
Mildly spiced, creamy cooked with almond & scrambled egg to create a delicious balanced flavour 
Egg
£5.70
Mochammon Chicken
Cooked with green beans & tomato, medium hot
£5.70
Mochammon Lamb
Cooked with green beans & tomato, medium hot
£5.70
Shashlik Bhuna Chicken
A thoroughly garnished dish with tandoori onion, capsicum & tomatoes with a touch of selected spice
£6.40
Shashlik Bhuna Lamb
A thoroughly garnished dish with tandoori onion, capsicum & tomatoes with a touch of selected spice
£6.40
Chicken Ceylon
Fairly hot cooked with coconut powder in thick sauce
Nuts
£5.70
Dilkhush Special Tawa Chicken
Chicken OR lamb cooked in chef's special sauce, slightly hot
£6.20
Dilkhush Special Tawa Lamb
Chicken OR lamb cooked in chef's special sauce, slightly hot
£6.20
Methi Gosht Bhuna
A method of preparation similar to bhuna, when fenugreek leaves are mixed with spices & fried briskly
£6.10
Daal Dupiaza
Daal with peppers, onion & fresh garlic
Vegetarian
£5.40
Chicken Tikka Mango
Sweet & sour dry dishes
£5.70
Honey Tikka Masala
Diced chicken tikka in a smooth masala sauce. A very popular dish
Nuts
£6.40
Butter Chicken
Sliced chicken tikka with smooth & creamy sauce
Nuts
£6.00
Cauliflower Bhaji
Vegetarian
£2.60
Kabuli Chana
Chickpeas
Vegetarian
£2.60
Mushroom Bhaji
Vegetarian
£2.60
Garlic & Mushroom Bhaji
Vegetarian
£2.60
Korma Sauce
Vegetarian
Nuts
£2.70
Mixed Vegetable Bhaji
Vegetarian
£2.60
Bhindi Bhaji
Okra 
Vegetarian
£2.60
Chana & Mushroom Bhaji
Vegetarian
£2.80
Tandoori Deluxe
Marinated mixture of chicken tikka, lamb tikka, seekh kebab, tandoori chicken & naan
£7.40
Shashlik Tandoori Chicken
Tender diced chicken OR lamb marinated with mild spice over charcoal served with grilled tomatoes, onions, green peppers & naan
£7.40
Shashlik Tandoori Lamb
Tender diced chicken OR lamb marinated with mild spice over charcoal served with grilled tomatoes, onions, green peppers & naan
£7.40
Tandoori Chicken (Half)
Piece of chicken breast & leg on the bone, marinated & dry roasted in the clay oven
£5.10
Tandoori Chicken (Full)
Two pieces of chicken breast & leg on the bone, marinated & dry roasted in the clay oven
£9.10
Chicken Tikka Main
Cubes of chicken tikka marinated & dry roasted in the clay oven
£5.10
Lamb Tikka Main
Cubes of lamb tikka marinated & dry roasted in the clay oven
£5.20
Paneer Tikka Main
Vegetarian
£5.40
Chicken Tikka with Naan
Served with fresh salad & mayonnaise
£3.70
Dilkhush Tandoori Special
Marinated mixture of chicken tikka, lamb tikka, tandoori chicken, chop onion & pepper. Served with fresh  salad & pilau rice
£7.40
Special Offer Regular
Any starter
Any curry
Rice, naan OR chips
Poppadom, onion salad & mint sauce
£10.00
Special Offer King Prawn
Any starter
Any curry
Rice, naan OR chips
Poppadom, onion salad & mint sauce
£12.00
Contact Us
Find Us
1462 Pershore Road, Birmingham, B302NT
We deliver to
B14, B29, B30, B31, B38